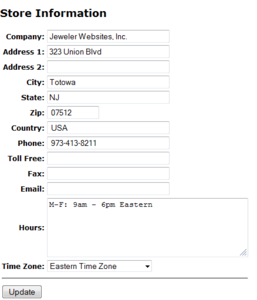 Simple way to edit global info
about the website owner.


The Global Store Info can be referenced from any content paragraph throughout the site, and it's also pulled in automatically to create the header, footer, and default SEO information.

GlitterPaw is all about local SEO targeting. If you choose to leave all your SEO settings blank, GlitterPaw will pull the town name and state from this screen and put it in the page title.

Take a look at the Page Title for this page, it should say "Global Store Info - Totowa,NJ" We didn't set any SEO tags for this page so GlitterPaw pulled the page name and the town/state to create that title.

The Store Hours field is very helpful because you can make changes here and have them show up everywhere on the site that you previously set them.