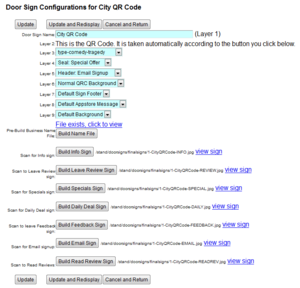 Put a caption here.


The Business Directory allows you to create many QR Codes for each listing. Normally you would simply download those QR Codes and include them in advertising.

If you are creating a unified brand for your business directory, then this feature is for you. You can distribute similar looking QR Code signs to each of your venues.

Once your branding agency creates a look for the door sign your programmer will upload various layers of that door sign into the website. After that it's a simple matter to create and download door signs that can be printed from a regular printer, or sent out to a photo center for printing.

This feature will take a little work for your website programmer to set up for you.