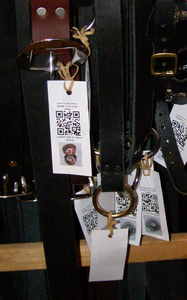 At a local street fair these
QR Codes that were used to
give consumers more info
about each of those belts.

Create QR codes for every product which will bring people to your mobile website.

Some of our users have printed QR Codes for use in their retail store, and others have printed them to use when their products were outside the store.

The photo shown here was taken as a local street fair. The retail store tagged all their products with photos and QR Codes (printed from the website) so the consumers could go online and read more information if they wanted.

The QR Codes automatically bring consumers to the mobile website that GlitterPaw creates.